Saving energy does not have to be expensive or time consuming - and this section offers some good examples. Use the Energy Conservation Center to review energy saving programs offered by Santee Electric. Visit Touchstone's Together We Save website at togetherwesave.com. Also, you will find energy saving tips that are appropriate for every season of the year. Of course, if you have any questions about how to make your home or business more energy efficient, please contact one of our offices.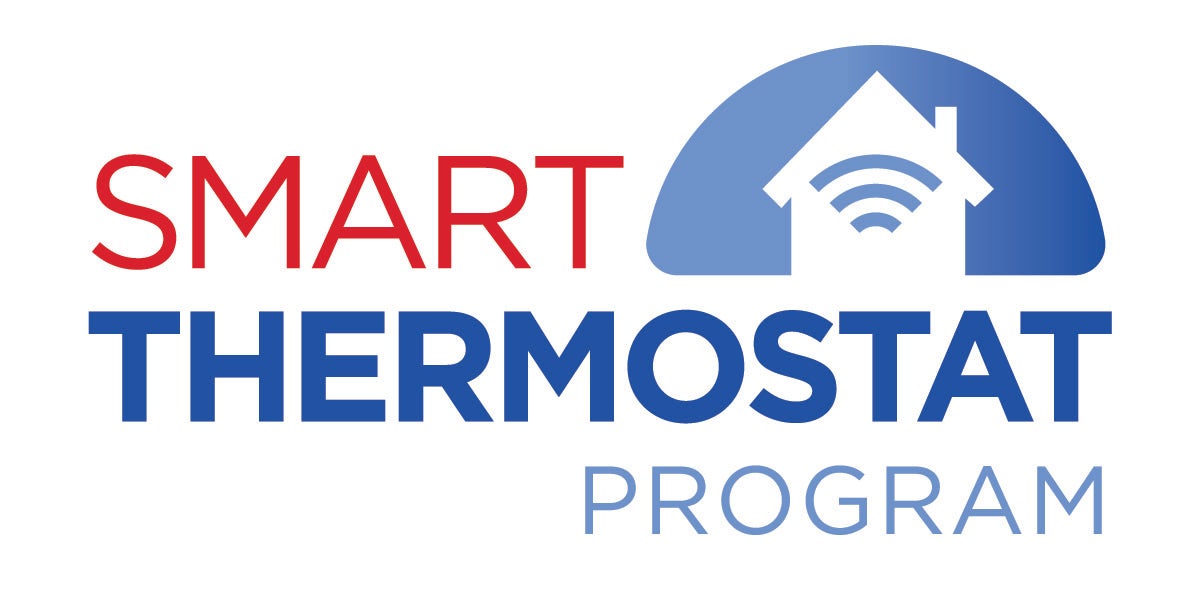 Now, Santee Electric members can save even MORE MONEY!
In addition to the energy savings, Santee Electric's members can take advantage of this exclusive offer:
• an ecobee 4 Smart Thermostat with Alexa for $75 (MSRP $249)
• an ecobee 3 Smart Thermostat for $35 (MSRP $169)
• Free Standard Installation Santee Electric will provide you the smart thermostat at a reduced cost as long as you meet the terms of our agreement. We will also provide a licensed electrician to install the device—at no cost to you! You must have Wi-Fi in your home in order to participate.
Smart Thermostat Program Specifics
• You must have Wi-Fi in your home to participate.
• To qualify for the program, the service location must be serviced by Santee Electric.
• You must have the properly connected ecobee smart thermostat for a minimum of one (1) year. If you cancel during this period, a buy-out fee of $175 for the ecobee 3 or a buy-out fee of $195 for the ecobee 4 will apply.
• You must grant permission to Santee Electric/ecobee to monitor and control the thermostat during high energy load periods through your home's Wi-Fi system.
• During the peak control events, the thermostat's temperature settings may be adjusted as needed, up to 4 degrees above or below member's desired setting. (Recommended setting in the summer is 78 degrees or higher. Recommended setting in the winter is 68 degrees or lower.)
• You will be notified prior to an upcoming peak control event and will have the opportunity to opt-out of the event.
• You can opt-out any time after a control event has started, however, if you opt-out or override more than 40% of the peak control events, enrollment in the program will be cancelled and you will be responsible for the total cost of the thermostat.
Santee Electric's Energy Alliance with Generac
Are you interested in a whole house generator? Your cooperative can help you save 12%!
Energy Alliance Products
16kW and 22kW - Air cooled units
32kW and 38kW - Liquid Cooled Units
Includes
200 Amp SER Transfer Switch 
7 year warranty - Air cooled unit
5 year warranty  - Liquid cooled unit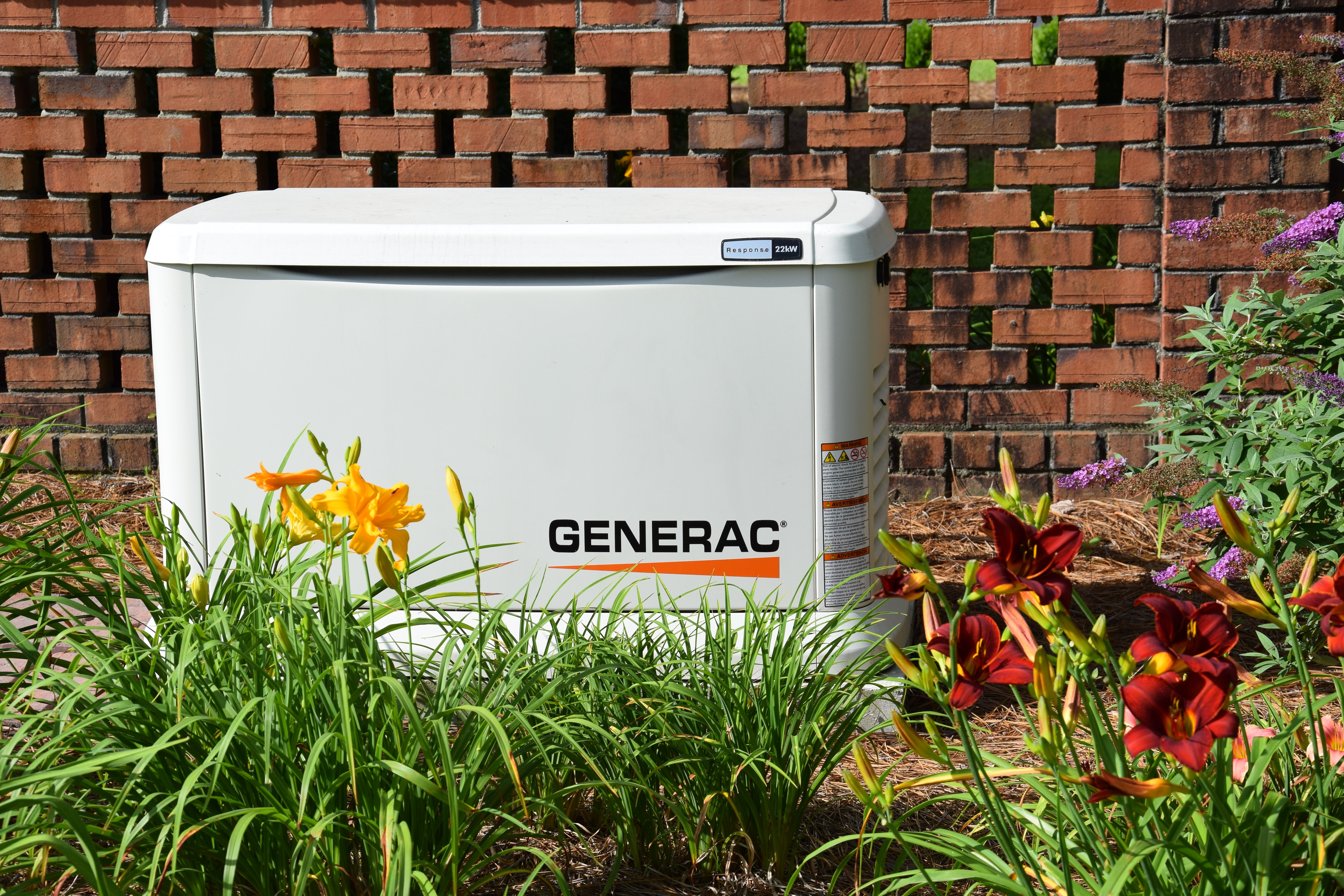 You can protect your home or business and make it more attractive with Illuma Knight™ security lighting.
Illuma Knight lighting fixtures operate automatically from dusk to dawn to deter vandalism, burglaries, and other crimes, even while you are away. They also make play areas safer for children and let you stay outside longer to enjoy outdoor activities.
Santee Electric will furnish, install, operate and maintain your lighting equipment. In most cases, you pay no up-front charge for installation. We simply add a fixed fee to your electric bill, so you know exactly how much to pay each month.
Illuma Knight lights come in several styles for many different applications, from residential driveways and yards to commercial parking lots and walkways. Contact our Member Services Department to find out how you can find peace of mind with Illuma Knight.

Introducing GreenPower from Santee Cooper and Santee Electric Cooperative.
Green Power has arrived with South Carolina's first source of renewable power generation now open for business. Generated by Santee Cooper and distributed by Santee Electric Cooperative, South Carolina's Green Power plant will collect methane gas from the Horry County Solid Waste Authority Landfill and the Lee County Landfill SC, LLC. There, the methane gases that would normally be released into the atmosphere-gases that possibly contribute to global warming-will be used as "green power" fuel.
The green power plant generates 8.7 megawatts of electricity which reduces enough methane emissions to be the environmental equivalent of planting more than 47,000 acres of trees. Green Power is something we can all live with. By participating in the Green Power program, you can help ensure its success now and into the future.
GreenPower Pricing for Residential Customers:

1 Block (100 kilowatt hours) = $3
2 Blocks (200 kilowatt hours) = $6
3 Blocks (300 kilowatt hours) = $9
Other (any # of blocks) = $3 each

GreenPower Pricing for Commercial Customers:

1 Block (200 kilowatt hours) = $6
2 Blocks (400 kilowatt hours) = $12
3 Blocks (600 kilowatt hours) = $18
Other (any # of blocks) = $6 each
Sign Up Now!
If you need to apply for a residential account: download the account application OR use our online application.
If you need to apply for a commercial account: download the account application OR use our online application.
Frequently Asked Questions:
Who should I contact for more information?
Contact our Member Services Department. We will answer any questions that you might have.
How much will my total electricity service cost including utility charges?
Based on a monthly average usage of 1,000 kWh, and purchase of one 100 kWh block of Green Power, the following table provides you an estimate of your 2004 monthly electric bill if you receive service from Santee Electric Cooperative as a Residential Customer (Rate 4) and the extra monthly cost for Green Power. Your actual bill will vary based on your use of electricity.
2009 monthly electricity cost: $80.70 + GreenPower premium: $3 = Total: $83.70
Will my electricity rates change over time?
Rates are set by Santee Electric's Board of Directors and are subject to change in the future.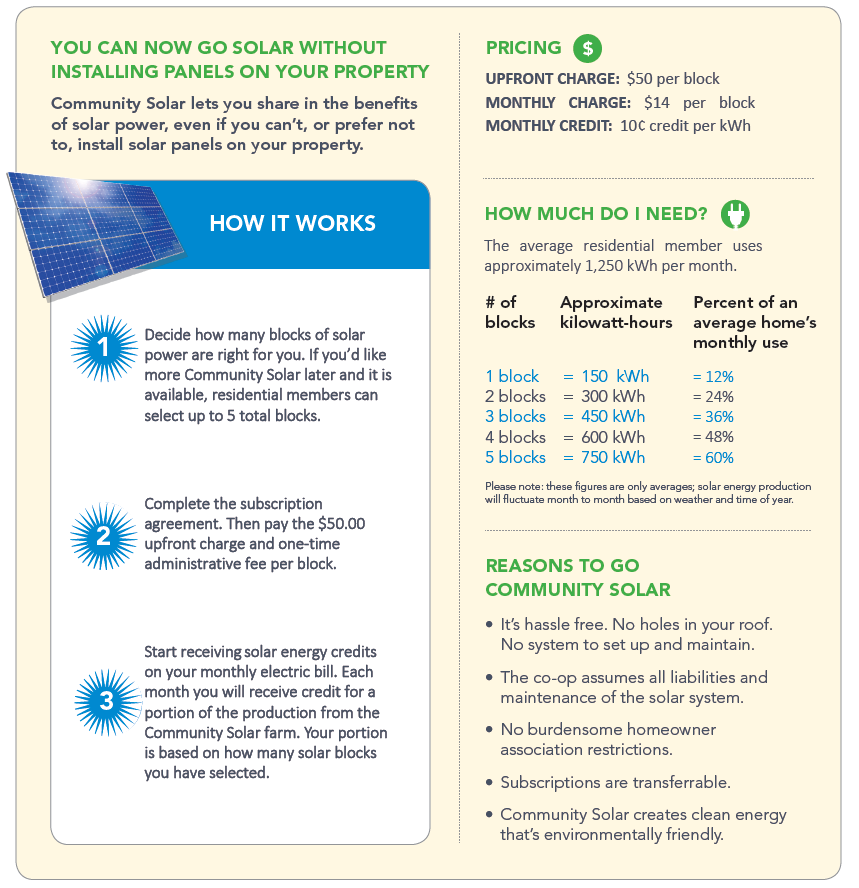 Frequently Asked Questions
WHAT IS COMMUNITY SOLAR?
Solar communities are groups of solar panels installed at one location. They offer you a solar energy option. This means you get a credit on your bill for the solar energy generated without needing to have equipment attached to your home.
HOW DOES COMMUNITY SOLAR WORK?
You subscribe to the output from the co-op's Community Solar site for a 20 year period. Choose the number of blocks you would like. You can add more blocks at any time, as long as they are available.
Once energy production begins, each month you will receive credit for a portion of the production from the Community Solar farm, based on the number of blocks  you have chosen.
You pay a portion of the cost per block upfront, and the remainder of the cost is paid in a monthly charge. The output of those blocks is credited back to you on a     cents-per-kilowatt-hour (kWh) basis. You pay a one-time fee to cover administrative costs.
WHO CAN PARTICIPATE?
Any member may apply and participate in the  Community Solar program will be at the cooperative's discretion.
AM I BUYING A PORTION OF THE COMMUNITY SOLAR FARM OR JUST THE ENERGY FROM IT?
You are subscribing to the energy produced by the solar farm in blocks of kWh.
ARE THERE PARTICIPATION TERM LIMITS?
The overall program term is 20 years. The minimum term participation is 2 years, and requires a 30-day notice of cancellation.
IS THERE A LIMIT TO HOW MANY BLOCKS I CAN CHOOSE?
The minimum subscription is 1 block. The maximum subscription for residential members is 5 blocks.
WHAT IS THE AVERAGE PRODUCTION

PER YEAR?
Our first Community Solar array will produce approximately 130 KW or 19,500 kWh per month, which  is roughly equivalent to the energy used by 16 average homes in our service area. It is important to note that solar production will vary from month to month based on weather and time of year.
HOW DOES THIS COST OF COMMUNITY SOLAR COMPARE TO INSTALLING A SOLAR POWER SYSTEM ON MY HOUSE?
While the cost of installing solar panels on your home varies greatly from house to house, the pricing for our Community Solar program is in line with the average cost of putting solar panels on the home — without having equipment installed on your property.
IF MY SOLAR SUBSCRIPTION PRODUCES MORE ENERGY THAN I USE, DOES THE CO-OP BUY IT BACK?
If your subscription produces more energy than your home consumes in one month, the extra solar energy goes into a "bank" on your account that will be used in the next month or months.
HOW DO SOLAR TAX CREDITS WORK?
Applicable tax credits are figured into the Community Solar program pricing.
WHAT IF THERE IS STORM DAMAGE TO THE COMMUNITY SOLAR FARM?
If the Community Solar arrays are damaged during a storm, you will receive a proportionate share
of the energy produced by any non-damaged panels while repairs are made.
WHAT HAPPENS IF I MOVE?
If you move to another home served by the
co-op, the solar energy subscription moves with you. If a you move out of the co-op's service area, the subscription can remain at the current location or be re-marketed by the co-op. However, the upfront charge paid when beginning the program is not refundable.
Disclaimer: This is a general description of the Community Solar program, but the terms of the program are governed solely and exclusively by the Subscription Agreement you will sign if you choose to participate in the program.