What is the SmartHub app?
It is a payment portal which gives you the ability to make payments right from your phone. SmartHub allows you to pay your bill, report power outages, review your payment history, stop and start service, check on monthly energy use, and request maintenance. SEC's SmartHub app includes a personal password-protected gateway and secure socket layer that guarantees your information remains confidential, so you never have to worry. 
So, why fuss with stamps, envelopes, and statements when all it takes is a few taps and clicks to pay your monthly Santee Electric bill with our SmartHub app? Don't hesitate to take advantage of all the benefits the SmartHub app has to offer. Sign up today!
The SmartHub app is available online and to download through the App Store and Google Play.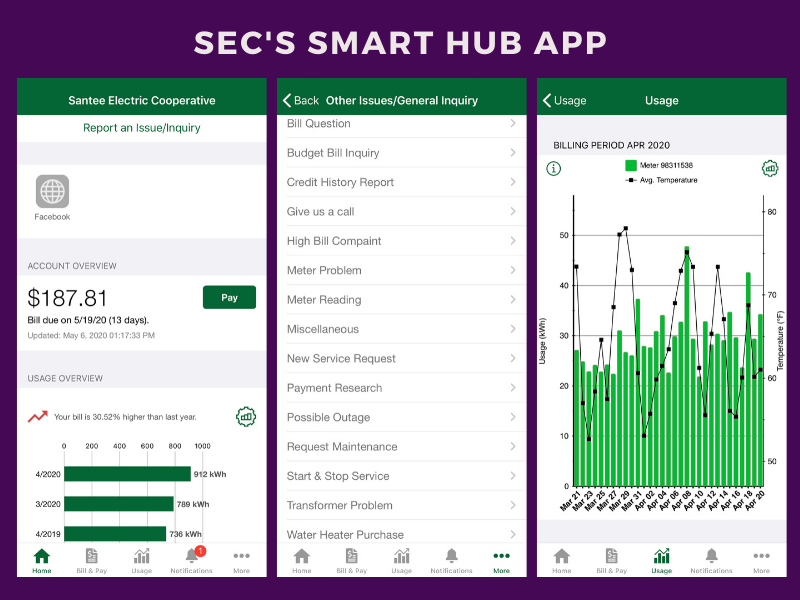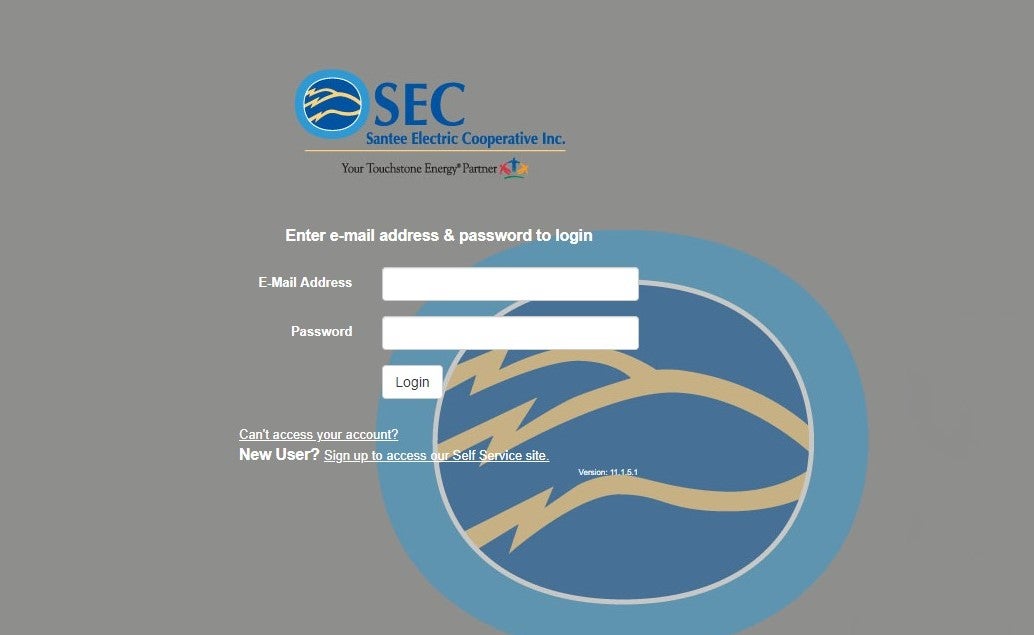 Now you can save on time and money with Bank Draft from Santee Electric Cooperative. Paying bills just got easy.
Paying bills takes time, and time, after all, is money. Now you can save on time and money when you sign up for bank draft. Santee Electric will then automatically deduct the amount of your bill from your checking account each month. You still receive your monthly statement, showing kilowatt hour usage and the amount due, at least one week before your account is drafted. You can rest assured that your payment will always be made on time and it saves you from having to write a check and mail it in every month. 
To sign up to have your payment drafted from your checking account, credit card, or debit card, you can log into your Smart Hub account HERE or visit any of our five offices. 
Directions:
1. Log into Smart Hub
2. In the Billing & Payments dropdown click Auto Pay Program
3. On the right side of the screen under actions click Sign Up For Auto Pay
The "Budget Bill" is an average of your power bills over the past 12 months. It brings the highest bills down and the lowest bills up to the same amount each month.
Start Anytime, End Anytime
With Budget Billing, the meter is still read on the same schedule as in the past, and your bill is computed just like always. The bill still arrives in the mail to tell you how many kilowatt-hours were used and the total bill amount. Your Budget Bill amount will be shown as the amount due on your bill. 
To qualify for this service you must be a residential customer with an acceptable credit rating and you must have had continuous service at your present location for a minimum of 12 months.
Here's How It Works:
Any current balance on your account must be paid in full before you can sign up for Budget Billing. We then average your actual usage over the past 12 months, using a calculation developed by our billing department. This averaged amount is automatically refigured every October to insure a perpetual 12-month average. Taxes, security light charges, contracts or other fees will be averaged in with your electric usage, but they will still be itemized on your bill.
Important Notes:
The budget bill only works if you pay your bill promptly every month. Your budget amount must be paid before the next billing or your account will revert to regular billing and all past due balances must be paid.
To Get Started:
Contact us and speak to our member services department to learn how you can use our budget billing program.
A Pay-As-You-Go Plan
Santee Electric Cooperative has delivered reliable energy since 1939. As times and needs change, we offer innovative ways for you to take control of your electric bill.
NO Monthly Bill • NO Deposit • NO Credit Check • NO Late Fees • NO Reconnection Fees
What is Advance Pay?
Advance Pay is a pay-as-you-go plan that allows you to pay when you want, in the amounts you want. Instead of receiving a paper or an electronic bill each month, usage is calculated daily. Advance Pay members never pay a late charge, disconnect fee, or reconnect fee.
Is Advance Pay the right choice for me?
Would it be easier for you to make weekly or biweekly payments rather than one large payment each month? If so, Advance Pay metering may be for you. Statistics indicate prepay electricity programs help lower electric consumption due to members' awareness of usage patterns. Therefore, any member interested in monitoring and lowering his or her electricity use could potentially benefit from the Advance Pay program.
How does Advance Pay work?
Advance Pay works similar to a prepaid cellular phone. You put money into your Advance Pay account and as you use electricity, the cost of the usage will be deducted from your Advance Pay account balance daily. When you sign up, you have a number of ways to access and monitor your account information such as usage and balance status helping you to better understand what is using electricity on a daily basis so you can manage usage and make your money go further.
What if my Advance Pay account runs low?
You will receive a low balance alert via the method that you choose:
• An In Home Display (IHD), which requires a refundable deposit
• A free SmartHub application for your smart phone
• On the internet at www.santee.org
• A message can be sent to your email address
• Notification can be sent by telephone call
• Manage your account by calling 1-877-833-3661
What if my Advance Pay account runs out?
If funds in your account run out, your electrical service will be automatically disconnected. You will be notified that your service has been disconnected. Once your outstanding balance plus the minimum payment is made, your service will be reconnected within minutes.
I have a traditional account. Can I switch to Advance Pay?
Yes! You can switch to an Advance Pay account even if you already have service with Santee Electric. Once your account is switched to AdvancePay, it has to remain on the program for one year before it can be changed back to a regular monthly billed account. For details, contact your local member services representative.
• Some restrictions may apply.
How do I make payments?
Smart Hub/Online: sign into your account 
By Phone: Automated (24/7) 1-877-833-3661
At Our Offices: Mon-Fri, 8 am - 5 pm

Kingstree, 424 Sumter Highway, Kingstree, SC 29556
Georgetown, 92 West Virginia Road, Georgetown, SC 29440
Hemingway, 202 East Broad Street, Hemingway, SC 29554
Lake City, 349 West Main Street, Lake City, SC 29560
Manning, 3191 Highway 260, Manning, SC 29102


Santee Electric Cooperative has delivered reliable energy since 1939. As times and needs change, we offer innovative ways for you to take control of your electric bill. There is a payment kiosk at each of the five offices, available 24/7.
Your monthly statement shows the billed amount for kilowatt hours used. It also has other helpful information, including your usage over a 12-month cycle and the "important message" section that allows SEC to communicate with our members. The image to the right is your bill numbered along with the information below. Click it to expand it to full view and then you can move it to the left or right on your screen to see the information below.
Please follow the numbered explanations that correspond with the numbers on the statement sample below to better understand your monthly statement:
Graph
This area shows your average kilowatt-hour usage and cost per day. It also shows your days of service for that period. You will be able to use the bar graph to determine your high and low months of usage.
Billing Address
Important Information
Contains important information regarding your statement such as payment due dates and phone number for reporting outages.
Special and Important Messages
This area is used for communicating special and important messages to our members such as annual meeting dates, capital credits information, etc.
Service Location
This is the actual address where service is located.
Billing Summary
Indicates previous and present meter readings and the killowatt-hour usage for your current statement. This also gives current billing charges, previous statement charge, payments and adjustments on your account.
Net Amount Due
Total monthly charge for your statement due upon receipt.
Gross Amount Due
Total amount due on the account if not paid before date shown. To avoid paying this amount you must pay before gross amount date on your statement. Payments not received before this date will incur a penalty.
Billing Date
Actual date of your statement.
Account Number
This is your Santee Electric Cooperative account number, please refer to this number when calling or e-mailing our office.
Payment Address
Please mail all payments to Santee Electric Cooperative, PO Box 548, Kingstree, S.C. 29556.