Business Members
Economic Development
Our electric cooperative provides unparalleled service to industrial members via a local network of business professionals, engineers, and lineman that are committed to delivering reliable electricity at the lowest possible cost. We are part of the community and we invest locally in scholarships, educational opportunities, commercial lighting programs, and energy audits. Our newest form of community engagement entails working with county, regional, and statewide economic development groups to recruit new companies to our area that create jobs and opportunities for our members. 
Our large commercial and industrial members are not only key to making our system more efficient, but also to enhancing the vibrancy of our community by providing jobs. Through our statewide economic development group, the South Carolina Power Team, incentives are available for companies that locate capital investment and job creation projects within our territory.
We also maintain positive relationships with the North Eastern Strategic Alliance (NESA), Central SC Alliance, the South Carolina Department of Agriculture, and the South Carolina Department of Commerce and can connect you with the right people within these organizations.    
Please contact us if we can be of assistance in locating or expanding your commercial or industrial business within our service territory. Our point of contact is Ronald Carter at 843-355-0524 or rcarter@santee.org.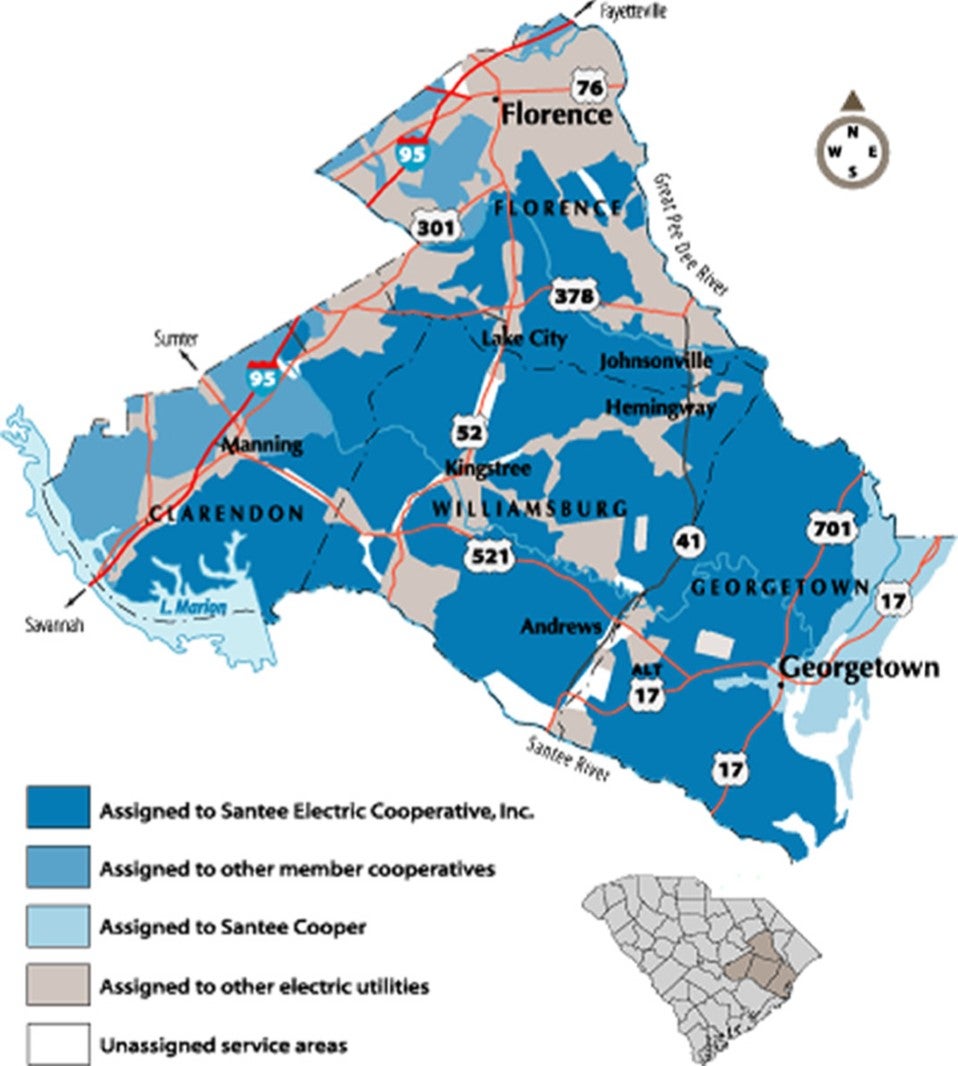 Business and Industrial Rates
Business Support Programs
Santee Electric is committed to saving our business members money through energy efficiency programs. Saving energy not only saves our members money, it reduces our need to construct costly generation facilities and other infrastructure. SEC is pleased to make its business support programs available to any member that is on a non-residential rate. Our programs include energy audits, demand management opportunities, lighting and agricultural efficiency research. Due to limited funding per year, projects are pre-approved on a first-come, first-served basis and there may be a waiting list for some programs.
All projects must be pre-approved by Santee Electric Cooperative for reimbursement. Please email a completed application for either program to Ronald Carter at rcarter@santee.org for review and pre-approval.
Energy Audits-Commercial and Industrial Members are expected to pay a $100 fee toward the cost of the audit with the balance subsidized by our wholesale power provider,Central Electric Power Cooperative. SEC is responsible for selecting a qualified energy audit or to perform the audit and submit the report. Audits should contain but are not limited to the following:
Overview/History/ Summary Section
Power Usage History
Electrical Use Breakdown
Building Equipment and Lighting Analysis
Recommendations for Energy and Demand Savings
Demand Management -Projects must be identified in an energy audit or qualified as financially beneficial to the member and SEC and/or the overall Cooperative system.  All demand management projects must be pre-approved.
Energy Efficient Lighting - Commercial and Industrial Members planning to upgrade lighting to energy efficient systems may apply via the attached form and email it to Ronald Carter at rcarter@santee.org for review and pre-approval. Eligible projects may receive up to 25% of the total project cost, not to exceed $5,000. Due to the popularity of this program, we frequently have a waiting list so please submit your application as quickly as possible as these incentives are distributed on a first-come, first-served basis.
County Economic Development Links
Other Links